By Charles Randall
6 December 2012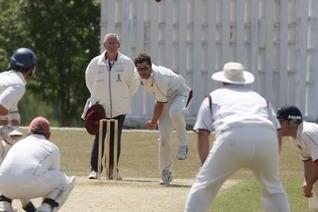 Oxfordshire have appointed their youngest captain by handing the Banbury CC left-arm spinner Luke Ryan the job at the age of 24.
Ryan, a PE teacher at Cokethorpe School, made his minor counties debut at 17 and could already be regarded as an experienced campaigner when he was asked to take over from club colleague Ian Hawtin, who announced his retirement at the end of the season.
Ryan said in an Oxford Mail interview: "I was pleasantly surprised, but also very honoured to be offered the captaincy. It was something that I accepted straight away, It's not an opportunity I was going to let pass by."
Consistently effective over the years in Division One of the Home Counties League, Ryan took 46 wickets for runners-up Banbury in 2012, second overall behind Aftab Khan, Burnham's extraordinary all-rounder, who finished with 60 wickets to go with his 723 runs. The division's batting was headed by the former Surrey and Leicestershire stroke-maker Jamie Benning, with 815 runs for champions High Wycombe.
Ryan's 8-96 against High Wycombe was the second-best return in the club's history, though Banbury ended up losing a marvellous high-scoring match by one run.
Hawtin captained Oxfordshire as wicketkeeper for eight years and made 103 Minor Counties Championship appearances, but he spent part of the 2012 season sidelined with a broken elbow before deciding to stop playing completely. He said: "I always said that if packed up county cricket I would retire from club cricket as well. I wanted to make sure I went out at the top when it was my decision. The injury didn't really influence my decision, but it made me realise that I don't enjoy watching cricket."
Oxfordshire had a good season in the West division, finishing second with a five-wicket win over Wiltshire in the last round of games. The result guaranteed Cornwall their maiden divisional title, and they later thrashed Buckinghamshire, opposition strengthened by the former Northamptonshire batsman Mal Loye, at Truro to become overall champions.