By Charles Randall
15 May 2012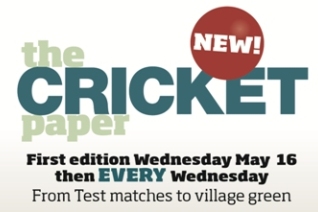 A weekly national newspaper, specialising in cricket with Peter Hayter as chief correspondent, is to be launched on Wednesday, 16 May. This is good news for followers looking for more depth at a time when coverage in the print media becomes ever more sparse.
The Cricket Paper, available in England and Wales at newsagents and supermarkets every Wednesday at £1.50, seems to be a worthwhile project that deserves support, emerging from the same stable as The Rugby Paper, The Non-League Paper and The Football League Paper and the football fans magazine Late Tackle. In its 40 pages the newspaper intends to carry results and reports from around the world, from elite level to local domestic cricket.
Hayter, the award-winning former The Mail on Sunday correspondent and a successful author, is a good signing for credibility, experienced in writing sharply for discerning cricket followers. David Emery, managing director of Greenways Publishing and the publisher of The Cricket Paper, commented: "Like our other publications, specifically The Rugby Paper and The Non-League Paper, we will offer unrivalled coverage of the game from the grass-roots up to professional cricket, and we think that appeals to a lot of passionate and dedicated players and fans of the sport. I'm delighted to be launching The Cricket Paper."
Twitter: @TheCricketPaper
Address: The Cricket Paper, Tuition House, St George's Road, Wimbledon, SW19 4EU.