A personal tribute by Simon Prodger to Basil D'Oliveira who died aged 80 on 19 October. Simon is a member of the board of the Club Cricket Conference, Chairman of Watford Town CC and captains Bucks in the Over 50s ECB championship.
28 November 2011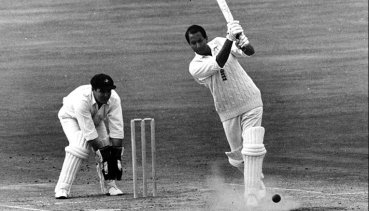 For the entire length of my practical memory, cricket has been a fundamental element of my world. As a small boy, I would go to every single match my father played, armed with a sawn off full size bat that was all handle and little blade, cut down from one of the old man's cast offs. It was my most prized possession and on those summer evenings at the cricket club, after my father had scored yet another century or taken the decisive wickets to hurry his team to inevitable victory, I would play outside using a trunk of an old tree as a wicket demanding that each of the team would bowl at me until it was pitch black.
The game became my passion. My father, in my young coltish years, was without doubt my hero. We had come to England from home in Kenya in 1961 where my dad had enjoyed a highly successful playing career culminating in two centuries for Kenya in a series against a touring MCC side led by Freddie Brown. This contained the likes of MJK Smith, Colin Ingleby-Mackenzie and Trevor Bailey. I used to read the Kenya Cricket Yearbook ceaselessly for years detailing my father's destruction of that touring side and the descriptions of him as the most graceful and powerful of batsmen. I imagined all the while, as young boys do, how would it be when I played international cricket. My dilemma was for whom should I play - Kenya or England?
I never envisaged a day when some other cricketer might stand upon the dais of my hero worship alongside my father. That was until, at around the age of nine in 1968, the world of cricket exploded on to the front pages of the British Press and became the lead story on the BBC news for days on end as a consequence of the South African authorities banning a player lately selected for the England tour party…..one Basil D'Oliveira.
The consequences of John Vorster's announcement cemented a global policy of denying South Africa international sporting contact, the ramifications of which are generally known by all today. Yet, at that time, I had only just become aware of who D'Oliveira was. That summer, I had watched awestruck on my grandfather's television as D'Oliveira constructed a mammoth innings of 158 against Australia at the Oval. I had already begun to feel the boyish guilt of sharing my feelings of adulation for more than just my dad. The shock of slowly coming to realise that I had now acquired a second hero was confusing to one so young and I determined that I needed to explain to the old man that he was now somehow only equal in my affections to another, rather than owning them completely.
So it was that the old man was sitting with me one evening explaining the history of D'Oliveira, how he was African like us but had been denied access to the top level of cricket in his home nation due to the colour of his skin. This was an impossible concept for a boy to understand. He had come to England and within five years was playing for the Test side and, in dad's opinion, had been poorly treated by the England selectors that summer. They had dropped him and reselected him in what he considered to be a politically motivated series of manoeuvres to keep visiting South African dignitaries satisfied……and then, a bombshell.
"Of course" Dad started, "I played against Basil when he came to Kenya with the South African Coloured side. He hit the first ball of his innings straight over the bowler's head out of the ground". I couldn't believe it….my two cricketing heroes had actually played against each other!! I was now incessant; "What was he like?" "Who was better – you or him?"; "why didn't you play together?"…….a thousand innocent questions came streaming out as Dad tried to tell me his memories of that series of 1956.
"He was without doubt the greatest player I have ever played against" my father stated and that, as they say, was that! D'Oliveira was now officially 'my hero'. My allegiance immediately changed from supporting Essex, where we lived, to Worcestershire, Dolly's adopted county. I was blind to the performances of anyone in the national team except Dolly. I would watch whatever cricket I could on TV and over the ensuing years it was Dolly I was searching for, Dolly I was reading about. When playing my test matches in the garden with a tennis ball thrown against the kitchen wall and a cricket stump as a bat, there was always an initial collapse of the England top order before D'Oliveira came to the rescue, smashing fours through the daffodils and crocuses, splintering apples off their twiggy branches as I (he) deposited Keith Boyce for six. By end of play, when my mother eventually called me in to tea, Dolly had at least a 170 on the board of England's 240-5.
My first ever real bat, size six, when I went off to prep school, was a Basil D'Oliveira bat with his face on the blade. I recall going to see England playing Australia at Lords in 1972, the Bob Massie test, and seeing my hero bat for the first time in the flesh, scoring without doubt the best 32 ever and, despite the 16 wicket haul for Massie, how Dolly had been the stand out player in that test for me. I can still vividly remember the utter desolation of seeing him dismissed in the first innings, lbw to Massie. Clearly he got a shocking decision – it had to be. Despite my futile anger and frustration, Dolly walked off the pitch serenely, accepting the cruel nature of his demise like the gentleman he truly was. I remember him bowling Greg Chappell but only after he had scored a 130 or so…..why the hell hadn't Illingworth given Dolly the ball sooner? We would have bowled them out for less than 250 and history would have been rewritten.
In the years that followed, my infantile adoration turned into teenage respect. Never at any stage did any other player come close to replacing D'Oliveira as my favourite, though Sobers had become the official third man in the pantheon of my hero worship. After his retirement from international cricket I continued to follow Dolly as he helped Worcestershire to championship and one day success. By the time he hung up his boots, I felt I knew him as well as any member of my family. From memory, he was a striking man to watch playing our beautiful game. He had an animal grace at the wicket or in the field. He hit the ball as hard as any one in his era, and when the mood took him a destroyer of bowling attacks. He cut a handsome figure, always immaculately dressed on the field and yet there was too, a worldliness about him that transcended his playing colleagues and made him stand apart, a man who had travelled a longer and different journey from others, a man who by the nature of his behaviour and performance commanded respect and attracted the eye.
The recent passing of Basil D'Oliveira, my absolute cricketing hero, has reminded me of just why he merited such status, even beyond my beloved father. The intervening years have offloaded all the sordid history of apartheid and have seen the return to international sport of a new South Africa, and most welcome they are. Dolly's life story has come into the public domain too and with it the admiration of the sporting and political communities. Over time I have had the good fortune to visit Boo Karp, his birthplace, and see some of the grounds where he would have played as a young and disenfranchised coloured South African. Despite a staggering natural ability that made him stand out throughout his cricketing career he was denied his rightful place at the top table of the cricketing gods through the pure misfortune of being born in the wrong place at the wrong time. Nothing I've ever read nor witnessed, nor heard from others, has ever once compromised my absolute faith in Dolly being worthy of my hero worship. He was a great cricketer and a great man.
If my father says that he is the best player he has ever played against, then that is certainly good enough for me!!
.