By Charles Randall
11 February 2012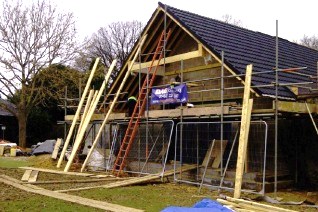 They will not be agreeing a name until the autumn, but Hersham CC and Claygate CC will play league cricket as a combination of four teams in two different leagues this season after agreeing to merge.
The building of a splendid £330,000 community pavilion at Claygate (right) was perhaps the catalyst that drew Hersham Sharks into a partnership. Jeremy Hunt, Secretary of State for Culture, Olympics, Media and Sport -- and MP for South West Surrey - will open the clubhouse officially on 25 May. The joining-up began with bar talk between two south-west London clubs with a cordial connection three miles apart in Elmbridge Borough.
The first teams would be roughly equal in status, though Hersham endured a tough 2011, finishing bottom in Division One of the Surrey Cricket League. Significantly they do not have a youth system and cannot therefore become a Focus Club under the ECB umbrella. Youth is a sector that Claygate, the Surrey Downs League champions, have been developing steadily over recent years, and the combined club should be able to offer a range of standards to cater for players moving into adult cricket.
The logistics of merging, such as drawing up a new constitution and combining accounts -- let alone settling on a name -- has been put off until after the season ends, according to Claygate committee man Nigel Abbott. "We've got a season to go through and lots of experience to be gleaned," he said. "That's for next autumn when we've had a summer together and see how it all works."
Both pavilion bars can expect to benefit. Hersham will be hosting more matches than before at the Coronation Ground, and Claygate will be enjoying their new Recreation Ground facility, shared with the football club Claygate Royals. The grants rolled in to support this notable community building at Dalmore Avenue. Elmbridge Borough Council contributed £82,000, Claygate parish Council £20,000, Football Foundation £20,000, Veolia Environmental Trust landfill fund £20,000 and Surrey County Council £6,000. The villagers raised some £80,000 themselves.
Interestingly there was no defining moment when talks between the two clubs started. "We play each at least twice a season, and some of us in both clubs play for Surrey Over-60, and it was probably through that link -- casual talk in the bar," said Abbott. "Suddenly everything seemed to make sense. There is similarity in the way the clubs feel. Claygate is a very strong community club and Hersham is similarly. We've always felt very comfortable with them, and this thing has just moved along."
After both sets of members had voted overwhelmingly for the merger, the announcement was made in January. The Claygate president David Milner commented: "This is an historic move for Claygate. This pioneering partnership agreement comes at the same time that the club has just been confirmed as Surrey Downs League Champions for 2011 winning both Division One and Division Three and the development of the much needed new clubhouse at Claygate Recreation Ground. This move really marks our progress on all fronts."
Hersham's chairman Vincent Lyseight added: "This is a great opportunity for Hersham and Claygate cricket clubs. Both clubs share the same values and social outlook. We hope this partnership will bring together professional and organisational skills from both clubs as well as an enthusiasm to play and enjoy cricket. Hersham and Claygate have been playing Sunday friendlies against each other for the past two decades and many games have been close and exciting, but all have been played in the manner in which cricket is meant to be played. The advantages to both club and community will be very significant."