By Charles Randall
15 February 2012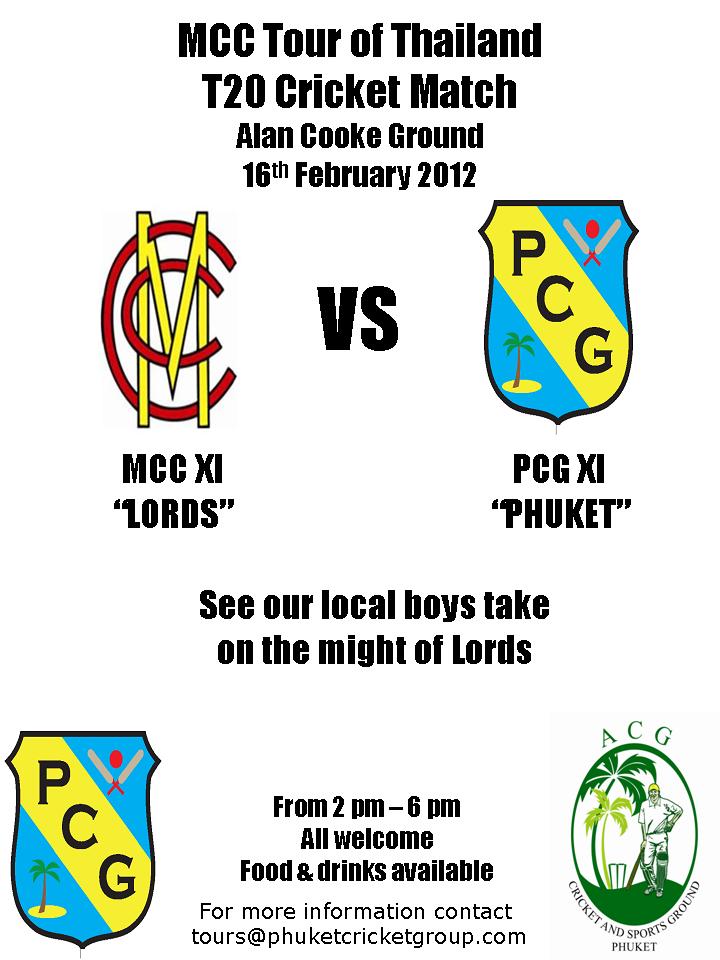 Thailand will be home from home for the former Teddington CC all-rounder Richard Brown when the MCC start their tour in Phuket this week.
Brown became an important figure in Thailand development as a founding member of the Phuket Cricket Group in 2005 before moving back to the UK to live in Northern Ireland, where he plays for Templepatrick CC. So it is with some relish that he returns with the MCC tour, managed by the Teddington chairman Bill Frewen.
Patrick Goodwin, of Oxted CC, is another former expatriate on the MCC trip, having spent two years working in Thailand. A strong party is captained by the son of the MCC president Will Hodson, the Reigate Priory CC all-rounder and former Durham University player. He has already toured Italy, China, Hong Kong and the United States with the MCC.
The fast-developing Cricket Association of Thailand was granted Associate Membership of the ICC in 2005, and an excellent playing infrastructure has been built, with significant growth occurring at a grassroots level over the past 10 years since the previous MCC tour.
MCC teams play about 500 matches a year, and their tours help promote cricket's international appeal in liaison with the ICC. In Thailand they are undertaking some coaching at schools during their visit. After Thailand the MCC are due to tour Canada, Italy and Tanzania during 2012.
MCC tour party
Will Hodson, captain
Richard Brown
Scott Corbett
Patrick Goodwin
Gareth Griffiths
David Heyes
Arif Mahmood
Rex Purnell
Tom Rash
Will Rist
Joe Shuttle
Bradley Smith
Alun Thomas
Manager: Bill Frewen
Umpire: Ian Ramage
Tour itinerary:
Feb 16: PCG Combined XI (20 overs) ACG Ground, Phuket.
Feb 18:Thailand (40 overs) TCG Ground, Bangkok.
Feb 19: Thailand (40 overs) TCG Ground.
Feb 21: Bangkok Select XI (20 overs) TCG Ground.
Feb 22: Thailand (40 overs) TCG Ground.
Feb 24: Chiang Mai CC (20 overs) Chiang Mai Gymkhana.
Feb 25: Chiang Mai XI (40 overs) PTIS.