By Charles Randall
25 February 2012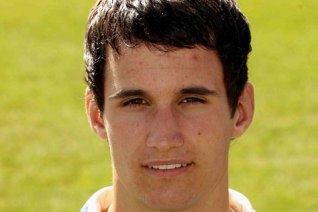 The MCC are helping Lewis Gregory take his career onwards from club and minor county to possible international honours by selecting the 19 year-old for the four-dayer against Lancashire in Abu Dhabi in March, his representative debut at this level.
It was at club level with Plympton CC that Gregory began to develop bowling skill that matched his undoubted run-making ability in the Devon League. Somerset Academy director Jason Kerr reckoned the all-rounder could fulfil his senior England ambitions. "Lewis can be as good as he wants to be," he said. "He works incredibly hard and has a fantastic attitude."
Gregory's all-round success at club level in Plymouth and a debut for Devon at the age of 16 launched him into the Somerset Academy and England Under-19 -- he was appointed captain against Sri Lanka Under-19 in 2010. He made his LV Championship debut for Somerset in 2011, and now the MCC are giving him an opportunity alongside Mark Ramprakash, Gareth Batty and Hamish Marshall in the season opener versus the champion county on 27-30 March.
A feature of the MCC game in Abu Dhabi will be another trial for the pink ball in a first class match -- and under floodlights -- but the experience should be especially useful for Lewis. Though the MCC side would be regarded as below international strength, it takes players such as Lewis out of their county comfort zone. Tim May, the FICA chief executive, and Rob Elliot, managing director of Kookaburra, are expecting to attend the match to gain feedback on the G3 ball.
The match against Lancashire will be preceded by the Emirates Airline Twenty20 – a four-way tournament featuring MCC, Lancashire, Durham and Sussex – played at the Sevens Stadium in Dubai on 23 March. An appearance for MCC in this event could provide IPL preparation for Rahul Dravid (Rajasthan Royals) and Sourav Ganguly (Pune Warriors), not available for the four-day game.
Mark Ramprakash admitted he had never batted against the pink ball in a match and he added: "I am looking forward to captaining such diverse cricketers. I believe there is much to be gained from playing alongside different team-mates, from new skills on the field, to friendships off it, and I'm very much looking forward to the trip."
MCC (v Lancashire in Abu Dhabi, 27-30 March)
Mark Ramprakash (England & Surrey, captain)
Gareth Rees (Glamorgan)
Stephen Peters (Northamptonshire)
Hamish Marshall(New Zealand & Gloucestershire)
Moeen Ali (Worcestershire)
Ian Blackwell (England & Durham)
Niall O'Brien (Ireland & Northamptonshire)
Lewis Gregory (Somerset)
Gareth Batty (England & Surrey)
Rana Naved (Pakistan & Derbyshire)
Alan Richardson (Worcestershire)
Marshall and Naved to be replaced by Rahul Dravid (India) and Sourav Ganguly (India) for Emirates Airline Twenty20 tournament between MCC, Lancashire, Durham and Sussex in Dubai on 23 March.